Business Intelligence (BI) & Data Visualization Services and Solutions
Rethink Your Approach to Data Visualization Solutions with Visually Appealing and Informative Analytics.
What is Business Intelligence (BI)?
When your data reaches the high-level executives of your organization, do your dashboards help answer critical business questions? Do they prompt users to take action? If not, it might be time to rethink your approach.
Business Intelligence (BI) comprises the strategies, technologies, tools and practices organizations implement and use for the analysis of data and management of business information. Moreover, data visualization, including reports and dashboards, is the method through which data can be parsed and leveraged in an easy-to-understand, aesthetically pleasing, and meaningful format.
The very best report dashboards will have timely, error free data that will present itself in a simple, straightforward format. For example, point-in-time calculations lack the context to help the user know if the data is worth examining further, or, if it's within a normal range of variance. Data visualization can help the user quickly understand the context and shorten the decision-making process.
Datavail's Business Intelligence (BI) Experts Support:
Domo
Looker
…and many more!
With Decades of Experience in BI & Analytics, We Can: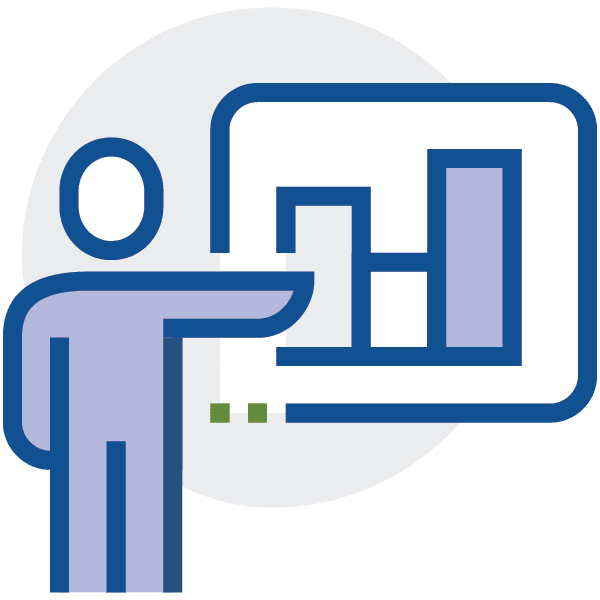 Help you identify, catalogue, and understand your most important business drivers and KPIs.
Build a data quality framework that makes all of your data and reporting instruments a trusted organizational asset.
Eliminate extraneous "noise" in the data.
Rebuild your data visualizations and dashboards to give you insight into these metrics.
Identify patterns, insights, trends, and potential usage strategies.
Identify, develop, and create your optimal visualization method.
Contact Us
* denotes a required field:
Use Analytics to Drive Better Decisions with Actionable Insights
Today's organizations have more data than ever, and those that use it properly are reaping the benefits. Data-driven companies have an easier time acquiring and retaining customers, identifying opportunities, reducing operating expenses, and improving in many other areas.
Datavail's data visualization experts utilize a variety of tools to ensure your data is represented in a clear, concise, and consistent manner, thus allowing your organization to leverage it in a way that's most beneficial.
Fill out the form on this page to connect with a BI expert today. Talk to us to discuss how Datavail's data visualization services can help you with your organization's data analytics and business intelligence goals.
Transforming Information Into Insights: Reporting, Scorecards and Dashboards
Organizations have more data at their fingertips than ever before—but they also need to transform this information into clear, actionable business insights, especially in a visual format.
From Raw Data to Insightful Stories: Transform Analytics into Innovation
Data visualization takes raw data and transforms it into easy-to-understand visual content used for data-driven decision making.
A Panoramic View of Cloud Analytics
The driver for moving analytics to the cloud is the business imperative to stop using data as a way to gauge what is happening in your business, and start using analytics to answer questions that will grow your business.
Work with Us
Let's have a conversation about what you need to succeed and how we can help get you there.
CONTACT US
Work for Us
Where do you want to take your career? Explore exciting opportunities to join our team.
EXPLORE JOBS