Enterprise Data Warehouse (EDW) & Analytics Solutions
Is your data ready to help you make informed decisions about the critical aspects of your business? An Enterprise Data Warehouse can provide the solutions you're looking for.
What is an Enterprise Data Warehouse?
An Enterprise Data Warehouse (EDW) is one of the most critical components of any organization's BI and Analytics solution.
By pulling together data from disparate sources into a single, unifying repository, an Enterprise Data Warehouse or EDW system, gives executives and key decision makers quick and efficient access to the information necessary to make effective business-oriented decisions.
Datavail has spent years evolving our methodology for custom-built Data Warehouse and Analytics projects. These repositories should be built with a business-first mindset to quickly enable data-driven decision making.
Whether your organization has just started its data journey or is looking to augment with advanced analytics projects, Datavail has the breadth of experience and know-how to help you unlock critical business insights.
EDW Data Solutions and Services from Datavail
Datavail's data warehousing experts can perform the following tasks for your organization:
Determine the individual goals, objectives, and business processes for your organization to lay out a blueprint for success.
Develop Operational Data Stores (ODS) to unlock self-serve reporting.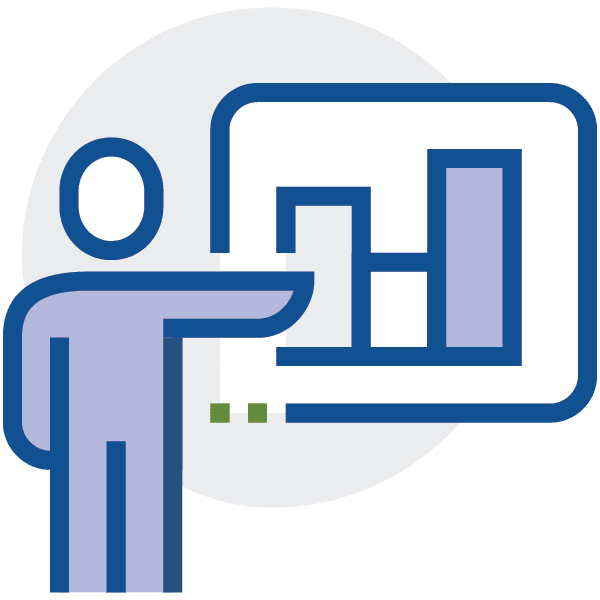 Launch a tiered deployment to ensure quick wins and business value.
Perform regular maintenance, tuning, and backups.
Design a comprehensive and functional Data Warehouse dimensional model (OLAP, Star schema, Snowflake schema, etc.).
Identify and define the type of data being stored and the sources being used.
Leverage Data Integration best practices, including development, tuning, and maintenance.
Support both on-premises and cloud-based technologies.
Contact Us
* denotes a required field:
When the Data Doesn't Match Up
In this white paper, we'll demonstrate how building a data warehousing – one source of the truth – can help leadership make good business decisions based on insights pulled from accurate data.
Enterprise Data Warehouse Requirements and Benefits
Data is readily available and easy to access.
"Single Source of the Truth" centralized data integrity.
Ensure that your entire enterprise is looking at the same data.
Maintains consistent and accurate historical data.
Speeds up querying and analysis.
Supports both traditional reporting and rapid, trial-based discovery to find undiscovered insights.
Datavail can work with your team to ensure your EDW Data Warehouse is designed, implemented, and monitored to conform to your organization's unique needs.
Speak to a data management expert about your Enterprise Data Warehouse requirements, business objectives, goals and needs, by filling out the form on this page.
Moving Your Data Warehouse to Snowflake: What You Need to Know
As organizations continue to accumulate more and more information, they find that it needs to be collected in a centralized data repository for ease of access and analytics – Snowflake provides this and so much more.
6 Reasons Amazon Redshift Shines for Data Warehouse Clusters
Adopting Amazon Redshift can provide a reliable path to adopt cloud data warehousing and achieve real-time analytics on big data sources.
Using Oracle Analytics to Generate Reports from Data Warehouses
Watch this webinar as Datavail partners with ODTUG to cover a wide range of functionality around reporting and visualizations in Oracle Analytics.
Work with Us
Let's have a conversation about what you need to succeed and how we can help get you there.
CONTACT US
Work for Us
Where do you want to take your career? Explore exciting opportunities to join our team.
EXPLORE JOBS