How Companies Grow Faster with Data Analytics Managed Services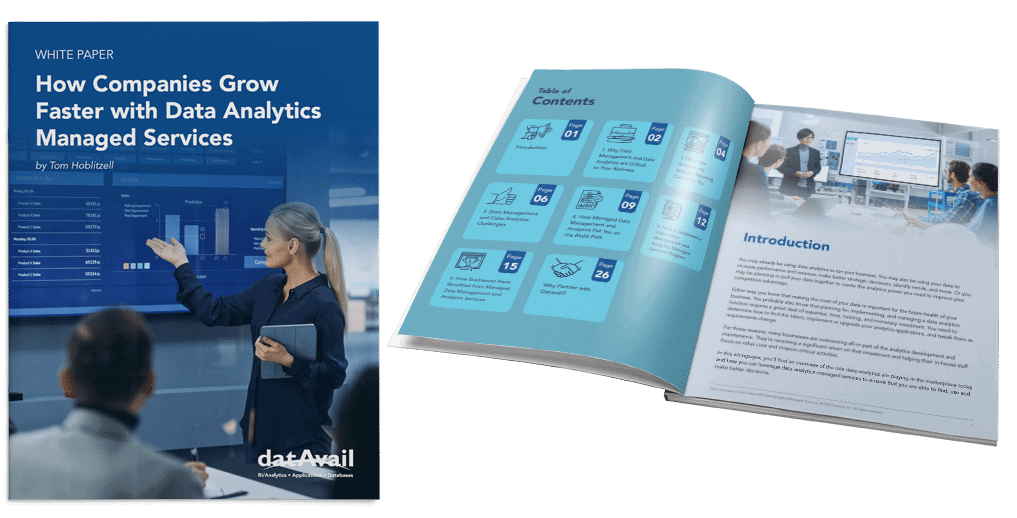 Today, a majority of companies are turning to their data analytics for many reasons including to run their business and day-to-day processes and operations, increase performance and revenue, make better strategic decisions, enhance competitive advantages, identify trends, and much more.
They realize that making the most of their data is important for the future health of their business, and also understand that planning for, implementing, and managing a data analytics function requires a great deal of expertise, time, training, and monetary investment; they know they need to determine how to find the talent, implement or upgrade their analytics applications, and tweak them as requirements change.
For all these reasons and more, more businesses are outsourcing all or part of their data analytics development and maintenance. Additionally, they're receiving a significant return on that investment and helping their in-house staffs to focus on other core and mission-critical activities.
Download this white paper for an overview of the role data analytics plays in the marketplace today, and how you can leverage data analytics managed services to ensure that you are able to find, use and make better decisions using it.
In the white paper, you will learn more about:
Why Data Management and Data Analytics are Critical to Your Business?
Why You Need Data Management?
Why You Need Data Analytics?
Why Long-Term Use is Important?
What Data Analytics and Analytics Reporting Can Do for You
Data Management and Data Analytics Challenges
How Managed Data Management and Analytics Put You on the Right Path
How to Implement a Viable Data Management and Analytics Managed Services Program
How Businesses Have Benefited from Managed Data Management and Analytics Services

A California University Got Expert Talent and Cost-Effective Systems
Worldwide Manufacturing and Services Company Gains Customer Insight
An International Data Center Provider Gains Business Agility
A Leading Bedding Retailer Achieves a Robust Analytics Platform Upgrade
An International Retailer Gets an Analytics System that Improved Its Business Management Capabilities to Increase Its Competitive Advantage

Why Partner with Datavail? – If you have any type of data management, data analytics, or data warehousing challenges, Datavail can help. We can provide managed services to help you reach your goals and grow your business. We provide a range of managed services that include:

Advisory services to help you build the right kind of data warehousing and analytics reporting to meet your business goals
Data integration services
Data quality services
Data warehousing with scalable cloud analytics and real time insights
Data governance support to mitigate risks and accelerate insights
Data lake services to make your business more agile by unlocking the potential of unstructured data
Ongoing data visualization and reporting services to make changes to customizations as needed, including developing easy-to-use dashboards to help you use your data to create value.
Data storage services to improve your business operations
Augmentation of your team to fill gaps in expertise or to help you quickly fill open positions.
Provide 24/7/365 coverage to provide support in any time zone and help you get more done in less time.
Deploy a complete solution so that you can redeploy your existing staff to address other mission-critical goals.
Developing easy to use dashboards to help you use your data to create value.
Our expertise in providing the right analytics to help decision makers make the right decisions is unmatched. As a Microsoft Gold Partner, AWS Advanced Tier Consulting Partner, Oracle Partner, among many other partnerships, specializations and certifications, we have the expertise, knowledge and skills to ensure that your data management and analytics initiatives are maintained and supported on an ongoing and long-term basis.
When you need data analytics that will give you a competitive advantage, Datavail can help. Contact us to discuss your needs and goals.